Kentucky Bluegrass at it's Finest
Relic is a Louisville, Ky based band with a sound often summed up by the title track of their debut album "Livin' in the Past".  Louisville, once the epicenter of bluegrass music, bears a rich history of bringing the genre right up to the cutting edge. With their songwriting and multi-genre fusion, Relic is part of a revival of this platform, blending rich vocal harmonies with colorful instrumentation.  The core of the group includes twin brothers Aaron Bibelhauser (on banjo) and Adam Bibelhauser (on bass), along with guitarist Chuck Sharp and mandolinist Dave Howard.   Relic's original material and interpretations of Flatt and Scruggs, the Osborne Brothers, and the Dillards, may sit right along side adaptations of Merle Haggard, Buck Owens, Elton John or the Beatles.  The Relic "sound" is equally progressive as it is rooted in tradition and tastefully rounded out by the addition of percussionist Tavis Conley and guest fiddle virtuoso Jeff Guernsey. 
Merchandise, Galore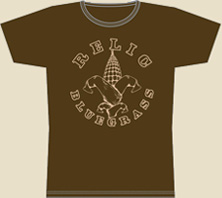 Be sure to Support Your Favorite Bluegrass Band.
Buy A T-Shirt!
Make friends with RELIC on MySpace.
RELIC Bluegrass' Latest News:
The new Bibelhauser Brothers album is now available on Itunes and on CDbaby.com.  This all original, full length disc includes several local/regional legends in the music business backing the two brothers Aaron and Adam Bibelhauser, who shared the vocal parts throughout.  Steve Cooley, who recorded, mixed, and mastered the project, also played all the mandolin parts while Aaron doubled on guitar and banjo and Adam played bass.  Another set of brothers, also included on the record, Jeff and Ivan Guernsey filled out the instrumental portion of the group on fiddle and resonator guitar.  The release event on November 11th was hosted by none other than John Gage at Uncle Slayton's in Louisville.  Photos from that night, along with the album's opening track "Colorado River" can be seen and heard on YouTube at the link below!!!!  A copy of the disc can be found in person at the regular Wednesday night Relic show at the Monkey Wrench 9pm-midnight…. See you there!
Want Us To Play A Show?